Archive | July 13, 2014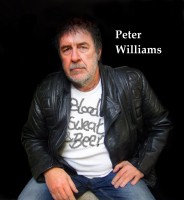 Blood, sweat and Beer, Peter Williams.
Review from jeannie zelos book reviews
Peter's just a few years older than me, and I found from reading the beginning of this book in many ways it mirrors my own childhood. Those days when mum sent us off for the day to play, with a bottle of water and a few squashed sanwiches. We'd take our bikes if we had them and roam for miles in the woods, commons, beaches without the need for todays mobiles and parents knowing every next move of their kids. I'm not saying it was right, any more than todays kids lifestyles are wrong, but surely a bit more freedom for them is good. We learned about self responsibility and risk taking this way, even if it was at times a bit scary. ( As when my cousin Phil lifted the lid of a tin where we'd put a lit firework, which hadn't yet gone off…of course it did right at that moment. Luckily Phil just got minor burns and we learned not to mess with fireworks!! Like Peter we made a Guy, tights stuffed with straw and dressed in some old clothes, and took it round chanting "penny for the guy" – that was our fireworks money. Then Peter describes his after school life, where you could leave a job on friday and walk into a new one on monday. Him Indoors is Peter's age and has told me it was the same for him. Sexism was rife then though, and as a female it was very different, our choice of jobs was much more limited. Peter's Service experiences made me laugh – and at times very sad too… I'm sure much of that life hasn't changed… The bikes, good grief Peter, did it have to take so many bad falls before you decided they weren't for you – but then I guess that what Him Indoors would say about me and horseriding 🙂 If you love something you accept the risk. When we come to Peters later years, when his art becomes his mainstay and the dogs Rule life that's when we get to where I've known Peter, ( online – as with many friends ) and that's brought back to mind so many memories. I remember Peter posting on the Art Forums when he first got Murphy – and we all fell in love with him. The dog I mean!! sorry Peter 🙂 . It's hard to believe that its been so long, and Murphy is gone now 😦 but what a great life he led. Like many artist friends I've followed Peter's journey into making a living from his art – from the start it was always clear he had the talent, but it's a tough market and needs hard, hard work to make it. Now he's adding writer to that list of talents, he's a man deserves all the success he's had, and remains as ever a very kind and genuine person. I'm wondering what he's going to come up with next? I'm not usually a non fiction reader, but enjoy the occasional biography, and feeling that I "know" Peter from our online life over the last 9-10 years I was looking forward to reading about his earlier life. Everyone has different experiences growing up into adulthood, and its so interesting comparing them. For me this is a book to savour, to read in bits and reminsce with him, to pick up and read a few pages and then mull over that period in our own life. Thats how I enjoy reading non fiction such as this, not straight through but in chunks that can be absorbed and thought over for hours. Stars: great read, well written and edited, and full of interest. Five stars. ARC supplied by author.